Is WooCommerce Is Best For eCom?: Every Thing You Need To Know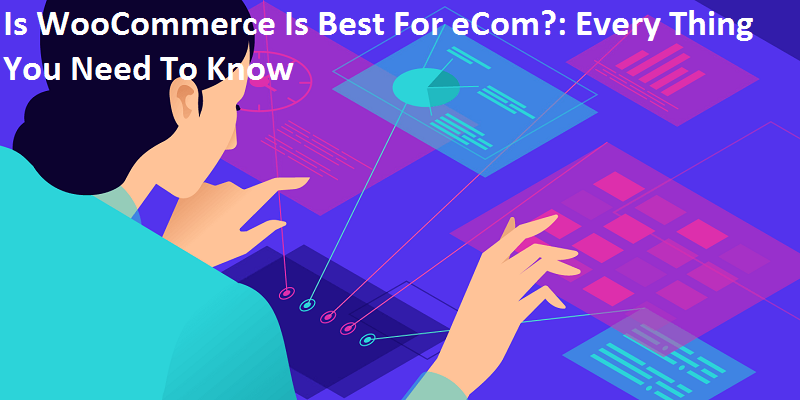 With the rapid increase in the number of eCommerce platforms, many business owners are a little confused about which one to select among those, for their online store. There are several top-performing eCommerce platforms such as WooCommerce, BigCommerce, Shopify, Magento, etc.
If you have not previously used any of these platforms, then it is very natural to be confused. But, not anymore as we have prepared this guide to help you to make an effective decision. Here, our main focus of discussion will be WooCommerce. We will talk about its advantages and what makes it the best eCommerce platform, among the other options available in the market.
Click here to hire a WooCommerce design agency for your business requirements.
A Quick Look On WooCommerce
Whenever it comes to eCommerce, one of the names that we mostly heard of is WooCommerce. From this, you can have an idea about how popular this particular platform is. One of the best advantages that come with making use of WooCommerce is that it is backed by many users.
Among all other available eCommerce platforms, most people are also well aware that WooCommerce is free to use. And you can also make use of its advanced features specifically with free as well as premium extensions, plugins, etc.
It is something that makes it one of the most common and widely utilized eCommerce platforms which power 30% of all the online stores. Now, that we have talked about the basics of utilizing this particular platform, let's talk about the main reasons why the business owner should choose
WooCommerce for displaying their products online with the help of an appealing eCommerce website.
Significant Reasons Why WooCommerce Can Be Called As The Best eCommerce Platform
· It Is A Cost-Effective Option To Choose
Pricing is considered to be one of the most important factors which that business owners look for whenever they consider launching their online store. There are many eCommerce platforms, available in the market such as Magento, WooCommerce, BigCommerce, etc. Among these well-known options, some of them are much more expensive whereas a few others do not require a significant investment.
So, if you are just getting started with your eCommerce business, then, in that case, an expensive option would not be suitable for your requirements. As a beginner, you may be short on your budget.
Due to all of these reasons, your main goal should be to go for an eCommerce platform that not only effectively serves your purpose, but also provides you with a high quality of services at a low cost. In all those situations, there are no options that are considered to be better than WooCommerce.
WooCommerce helps you to stay on your budget. It is regarded as one of the reliable as well as flexible eCommerce platforms which you can use for building a top-performing and highly responsive online store.
Not only that, but this platform also provides you with advanced plugins, features as well as free themes which makes it a cost-effective option to go for. Even a small business can consider making use of WooCommerce to build an appealing eCommerce store for their business.
· It Is A Search Engine Friendly Platform
SEO always tends to play a crucial role in getting websites to rank at the top of the search engine result pages. If you are looking forward to driving organic traffic to your eCommerce store, then it is essential to get your website as well as your product ranked in the SERP. In the case of WooCommerce, you will get this advantage.
WooCommerce when combined with WordPress makes it very much easier for businesses to get their product ranked. This is specifically because WordPress is known to be a well-known SEO-friendly CMS platform which contributes to making WooCommerce a search engine-friendly platform.
· You, Will, Get The Option To Customize Your Storefront
Your storefront plays a crucial role in deciding whether your visitors will stay on your website for buying your products or they will choose to leave your website without making any purchase. So, you should essentially focus on making your storefront appealing to attract more and more people to your website.
Bounce rate is considered to be more in case of an unoptimized store having tedious design. Due to this particular reason, your main goal should be to create an enticing storefront that provides you the opportunity to convert your website visitors into customers.
WooCommerce allows you to do so as it runs on the most popular CMS platform i.e., WordPress. WordPress helps you to customize your storefront by making the required changes specifically in the themes. Again, you will find the availability of premium as well as free themes in WordPress which support WooCommerce.
So, it is clear that WooCommerce will help your business website to stand out from other websites.
Both the layout as well as the design of your eCommerce store decides whether you can sell products online or not. Not only that, but WooCommerce offers you more than 40 completely free themes which you can easily access and customize.
The advanced features of WooCommerce are proved to be helpful for you to create and customize your storefront which effectively meets the expectations of your website visitors. To enhance the look of your eCommerce website, you can make use of the outstanding templates and themes that are easily available in WooCommerce.
This eCommerce platform even allows the users to customize their storefront just by modification of the colors as well as CSS in the theme. Modification of the code can be easily done by making use of the WordPress seating which contributes to making your website load faster on almost every screen type.
· Possess Advanced Built-In Features And Plugins
WooCommerce possesses a lot of premium advanced add-ons which you can use whenever your business starts growing to its full potential. All of these features as well as plugins help you to create, run and optimize your online store. Not only that, but it helps you to effectively run your online store with several products.
Closing Thoughts
The list is very long whenever it comes to talking about the benefits of WooCommerce. In this detailed guide, we have covered some of the most important ones which you should know about if you are choosing an effective eCommerce platform for building your online store.
Another interesting thing about WooCommerce is that it is a stable platform that possesses excellent customer support, Due to this reason, it is regarded as the first choice of a vast majority of
large as well as small scale businesses.
We hope, after reading this blog post, you have gotten a very clear understanding of why WooCommerce is considered to be the best eCommerce platform. To start your journey with WooCommerce, all that you need is to opt for the assistance of a professional WooCommerce design agency.